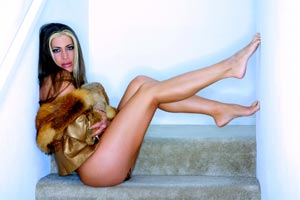 ---
Rancho Q&A with Aria, the T&A
Singing with Aria
By: The Management
---
Rancho: Firstly, please compose a haiku about yourself.
Aria:
I am like a dream
A lean mean fucking machine
Want to cum and see?

Rancho: What\'s your name and age?
Aria: Aria, age 26.

Rancho: How did you pick your pornstar name?
Aria: It\'s a comic book and a solo operatic piece.

Rancho: Have you ever traded sex for anything funny, say, a short stack of pancakes at Denny\'s?
Aria: No, but I did take naked pictures at the security office at the federal building so I could get my passport at the last minute.

Rancho: If Rancho organized a Pornstar Relief Team would you travel to Iraq with other pornstars to dole out \"aid\" to Iraqis in need?
Aria: No.

Rancho: Any other thoughts on the current Middle East situation?
Aria: Yes, hopefully they find Saddam\'s body eventually so we can have a national holiday.

Rancho: What\'s the highest score you\'ve ever played a word for in Scrabble? If you don\'t know, what\'s your favorite board game or video game?
Aria: My highest word in Scrabble was 24 points. My favorite board game is Sequence. No favorite video games, I suck at them.

Rancho: Are you: a) secretly white trash at heart b) a geek who enjoys a good book better than a crowded bar or c) a reincarnated old soul who\'s just really lost in the modern world?
Aria: Both B and C.

Rancho: How do you feel about Michael Jackson?
Aria: I think he\'s the greatest pop star of all time.

Rancho: Do you have a favorite fairy tale and why do you like it?
Aria: The original Beauty and the Beast.

Rancho: Please list 5 good reasons to live in California.
Aria:
1. It doesn\'t rain very much
2. All in one day you can go skiing, to the beach, and to the desert.
3. Good horseback riding terrain
4. Lots of airplane flights to anywhere
5. No smoking inside clubs, bars or restaurants.

Rancho: And 5 reasons NOT to live in California:
Aria:
1. Traffic
2. Fake Los Angeles attitude
3. Traffic
4. Smog
5. Traffic


Rancho: What do you feel is your best movie to date (with you in it, of course)?
Aria: Vivid\'s Blonde Jokes

Rancho: Make a list of everything you\'ve ever been for Halloween besides drunk.
Aria:
1. A renaissance lesbian (a woman, dressed up as a man, dressed up as a woman)
2. Robin Hood
I can\'t remember whatever else I was because I was too drunk. :)

Rancho: After seeing a lot of Behind the Scenes segments on porn DVDs, it doesn\'t seem like the process of making an adult movie is all that sexy with all the stopping and starting and cameramen all over. Is it really an erotic experience for you to shoot a scene or is it more of a job at that point?
Aria: Well, considering that I don\'t really stop when the camera stops, it\'s more of an erotic experience.

Rancho: When\'s the last time you ran until you were out of breath?
Aria: This morning.

Rancho: Are you married? Boyfriend? Kids?
Aria: No comment.

Rancho: We usually ask some sort of dumb question about George Bush. But we won\'t this time. Let\'s ask this: Out of everybody in the American political system, who needs a blowjob the worst and why?
Aria: Hillary Clinton, she obviously wears the pants in the family but misses out on all the action.

Rancho: Do you have a favorite television show?
Aria: The Simpsons.

Rancho: Have you ever recoiled from semen at any time in your life?
Aria: No, unless it was going over my head and I was trying to catch it.

Rancho: If one human male from every country on the planet was put into a big gladiator ring and made to fight to the death in a giant battle, which country would be able to claim the last man standing?
Aria: Any country in Africa.

Rancho: Any thoughts on life after porn? Any careers you\'d like to pursue outside the adult industry?
Aria: I\'d love to do something in the fitness industry. Which actually, I am already pursuing. I\'d also eventually like to have kids.

Rancho: Please discuss female ejaculation. Can you do it? Can anyone do it (excluding guys)? And is it better than a \"normal\" orgasm?
Aria: Yes, I can do it. I think any female can develop the ability to do it. It\'s not necessarily, better than a \"normal\" orgasm, it\'s a higher level of intensity, but not as complete as a regular orgasm.



Check out these Rancho reviews of Aria's movies
WICKED SEX PARTY 4 THE BACHELOR PARTY - Wicked Pictures
NAKED EYE - New Sensations/Digital Sin
MY FATHER\'S WIFE - Wicked Pictures
-
EROTIC INTENTIONS - Adam and Eve Productions
JULIAN\'S SEDUCTIONS 2 - New Sensations/Digital Sin
SCREAMING ORGASMS 7 - New Sensations/Digital Sin
YOUR TIME IS UP - Private Pictures
BEST FRIENDS - Wicked Pictures
ADULT STARS AT HOME 2 - Adam And Eve Productions
ADAM AND EVE\'S VIXEN - Adam And Eve Productions
ANGEL\'S DOLLHOUSE - VCA Interactive
RUSH - Digital Playground
NOT A ROMANCE - Wicked Pictures
LOST AND FOUND - Wicked Pictures
LOOKING FOR LOVE - VCA Interactive
PHOENIX RISING 2 - New Sensations/Digital Sin
PORN STAR - Wicked Pictures
ABOUT A WOMAN - Wicked Pictures
SAVE THE BEST FOR LAST - Wicked Pictures
IMPROPER CONDUCT - Wicked Pictures
AMERICAN NYMPHETTE 6 - Legend
TRAILER TRASH NURSES 7 - Legend
FAST FORWARD - Wicked Pictures
MAKIN\' IT - Wicked Pictures
BLOW ME SANDWICH 3 - Zero Tolerance
DISTURBED - Metro/Fusxion
HOOK-UPS 2 - Wicked Pictures
DOUBLE PLAY - New Sensations/Digital Sin
EXTREME BEHAVIOR 1 - Adam and Eve Productions
FANTASIES INC - Sin City
EROTIC STORIES: LOVERS AND CHEATERS - New Sensations/Digital Sin
BUTT LICKIN SWEETHEARTS 1 - Platinum X
NIGHTMARE - Metro/Fusxion
RECTAL ROOTER THE SERIES 7 - Zaye
SORORITY SPLASH - Metro/Fusxion
ANAL KINKSTERS - Adam And Eve Productions
THE PANTY DRAWER - Adam And Eve Productions
EXTREME BEHAVIOR 4 - Adam And Eve Productions
WICKED DEEDS - VCA Interactive
TELL ME WHAT YOU WANT 4 - Adam And Eve Productions
NINA HARTLEY\'S GUIDE TO MULTIPLE ORGASMS - Adam And Eve Productions
SITTIN\' PRETTY - VCA Interactive
MANHAMMER - Mercenary Pictures
LIVE IN SLAVE 2 - Metro Interactive
GO AHEAD REAM ME - Acid Rain
ASS WATCHER - Metro/Fusxion
CRACK CREEM - Adam And Eve Productions
ANAL SURPRISE PARTY - Seymoure Butts Home Movies
DROOLIN\' AND TOOLIN\' - Adam And Eve Productions
GETTING STONED - Madness Pictures
CREAM FILLED - Venom Digital Media
MUNCH - Adam And Eve Productions
IRRESISTIBLE TEMPTATIONS - X-Worx
PUSSY PARTY 8 - C.S.I.
TAILS FROM THE HOLLYWOOD HILLS - Visage
HEADMASTER 1 - Adam And Eve Productions
POTTYMOUTH - Adam And Eve Productions
XVIZION 1 - X-Worx
MUFF 1 - X-Worx
ROXXI RED - Visage
PANDORA\'S BOX - Visage
NIGHTMARE 2 - Metro/Fusxion
BITCH 2 - Metro/Fusxion
GIRL GASMS 2 - Adam And Eve Productions
HOME SCHOOLED 2 - Metro/Fusxion
VERY VERY BAD SANTA HDQ FORMAT - Metro/Loaded Digital
COYOTA NASTY - Metro/Loaded Digital
VERY VERY BAD SANTA - Loaded Digital
-
FABULOUS - Anarchy Films
SQUIRT SHOWERS - Adam And Eve Productions
STRIPPERS GONE WILD - Adam And Eve Productions